This fall 2010 edition of the SF State Parent & Family Program eNews includes important information about the following topics:
Read more on outstanding achievements and recognition received by SF State faculty, students, and alumni at SF State in the News, including the following articles:
The psychology of the job hunt [read more]
Campus sustainability efforts recognized by Sierra Club [read more]
Oscar-winning alumni on campus [read more]
For Fall Recess and other holiday schedules, take a look at our University Calendar.
Mandatory advising notice and Parent/Family Orientation presentation
SF State has initiated a mandatory advising program for all Fall 2010 incoming freshmen and 2nd year students, i.e. sophomores that entered in 2009. It is imperative that you remind your student of this as the University has already placed registration holds on their Spring 2011 records!
For freshmen or first-year students, there is an online workshop that each first year, i.e. freshman student, must complete. It can be found here: http://www.sfsu.edu/~fyi/ Once this 30 minute workshop is completed, and after a short quiz of 10 questions, the hold will be cleared almost immediately (and no later than 24 hours afterwards). Even though these students have been coming in for advising, only the above workshop will clear the registration hold!
For Sophomores or second-year students, a large majority of the students have gone to see their assigned advisors and have cleared their holds. Please make sure that your student has received the email notice and understands where they need to go and who they need to see. The published deadline is November 18th. The holds should be cleared by SF State no later than the end of November. [read more]
For all of the Parents and Family members who saw Academic Counselor Joe Benjamin's presentation at the orientation program, it is now available online. Follow "JoeTheAdvisor" on Facebook.
Special message from the new Director of Residential Life
SF State Housing is in full swing this Fall 2010 semester. Read a special message from the new director of Residential Life.
Visit the main Housing website for more news and updates from the housing community.
Follow SF State Housing on Twitter at http://twitter.com/SFSTATEHOUSING
Housing application process for students living on or off-campus
Current residents will receive priority email notifications in February about the returning resident licensing process for Fall 2011. There is no need to reapply right now. SF State University Housing recommends that new students apply for housing before being admitted to San Francisco State University. Housing is first come, first served and demand is very high. The housing application process started on October 1 for new students and is separate from University admissions. Visit the University Housing website for updated information.
SF State is #1 in the California State University for students accepted to the CSU International Study Abroad Programs
We are pleased to announce that SF State was ranked #1 among the 23 CSU campuses for the number of applicants accepted into the CSU system-wide study abroad programs (CSU International Programs) for the academic year of 2010-11. [read more]
CSU adds Sweden to the Study Abroad options for sophomores
Although most students participate in the certified California State University study abroad programs (CSU International Programs) at the junior or senior level, it is possible for students to study overseas during their sophomore year. Students are finding that, in many locations, the cost of the program is cheaper than staying at SF State, and, also, that more courses are available and that quicker progress can be made toward degree goals through an overseas study program. In fact, given that SF State students are allowed up to four semesters on overseas study, some are now choosing to participate as sophomores in order to learn another language and to take care of GE requirements, and then, extending into a second year to study in their field of academic major. [read more]
Application deadlines are December 15, 2010 (priority) and February 1, 2011 (final). For more information, check the SF State Study Abroad web page.
Study Abroad reflections by an SF State student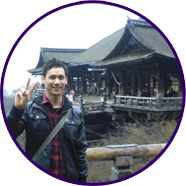 "For most new university students, college is seen as the time to gain newfound independence and reach a new level of maturity. In my freshman year of college, my own mother encouraged me to be a stronger and more independent individual. Unfortunately, this wasn't exactly the case since I was still living at home with my family. In my junior year I became aware of the Study Abroad program and it made sense as a Japanese major to apply, completely unaware of what a rewarding experience it would be. After getting through the application process (which was much simpler than I had expected), I was accepted for the year-long exchange program in Oita, Japan. I paid no extra tuition costs and all my financial aid through SF State was applicable towards the program." [read more]
Jesse Lopez, Study Abroad Alumnus, Oita, Japan 2009-10
Gators cap season with CCAA title, tourney berth
The SF State women's soccer team wrapped up a successful season that included its second berth in the NCAA Division II soccer tournament in the past three seasons and the University's first California Collegiate Athletic Association (CCAA) championship in any sport. [read more]
SF State athlete named to the Preseason All-American Team
SF State's Marquel Hoskins (Beloit, Wisconsin, Reedley College) has been selected to the Division II Bulletin 2010-11 Preseason All-American Honorable Mention Team as recently announced by the publication . This is the second preseason team that Hoskins has been named to this fall; he was named to the Sporting News Preseason All-American Honorable Mention Team last month. [read more]
Holiday Season at the Campus Bookstore
Start off your holiday shopping early at your SFSU Bookstore's Family Gifts & Clothing web page with free ground shipping on online gift and clothing purchases of $50 or more. Enroll your students in the Gator Rewards Club for weekly discount updates, or add Gator Dollars and Baybucks directly to a student's university ID card to be used to purchase on-campus meals, groceries and snacks. SFSU Bookstore Gift Cards can be purchased online and used to purchase books, SF State apparel, and other necessities of college life. 100% of SFSU Bookstore surpluses are reinvested in the campus community. "What's Spent On Campus, Stays On Campus."